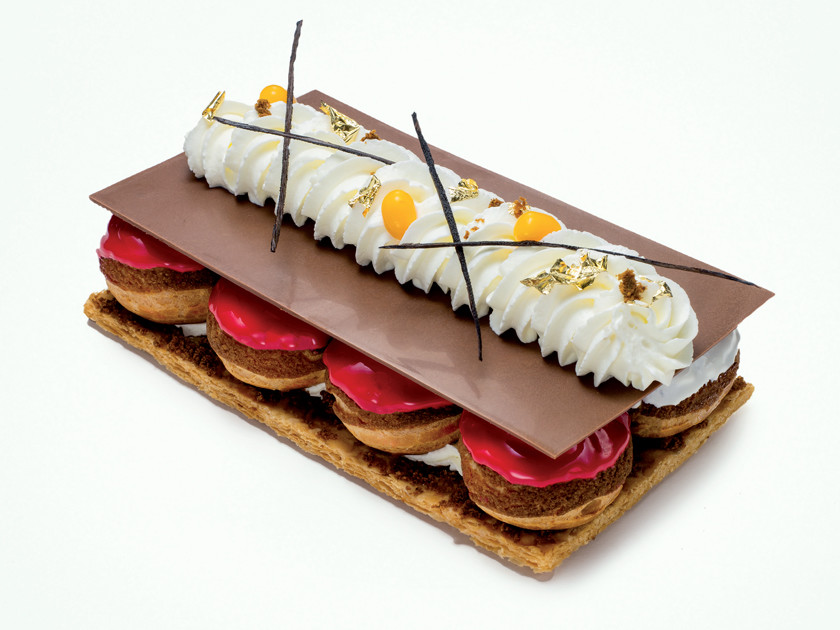 Saint Honoré épice kue lapis
Jimbaran
recipe from chef Gerald Maridet
Spiced Kue Lapis Saint Honoré
Ingredients
Puff pastry

500g flour

12g salt

200ml water

150g butter

250g Tourage pastry butter

Choux pastry

375ml water

125ml Milk

15g sugar

5g salt

200g butter

300g flour

500g eggs

Lapis Paste Glaze

90g brown sugar

100g butter

120g raw sugar

120g flour

18g baking soda

Mango Boba

500g mango purée

8g gelatin powder

1L water

12g sodium alginate

Whipped cream

250ml Milk

250g liquid cream

2 vanilla pods

50g eggs

75g egg yolks

75g sugar

45g crème anglaise sauce mix

250g butter

350g whipping cream

75g Spekkoek spices

Red & White Icing

300g sugar

150g water

300g glucose

200g condensed milk

30g gelatin leaves

100g white chocolate

300g clear sugar glaze

12g red food colouring

6g titanium dioxide

Garnish

2g edible gold leaf

100g milk chocolate

Vanilla pods
Method
Puff pastry
Place all the ingredients, except the Tourage pastry butter, into a stand mixer bowl.
Mix until smooth. Let rest for 5 hours and then turn five times with thepastry butter.
Refrigerate.
Roll out  the puff pastry to a 3mm thickness and bake between two baking sheets at 200°C for 25 minutes.
Cool, then cut the dough into a rectangle
Choux pastry
Boil the water, milk, sugar, salt and butter.
Stir in the flour and mix until smooth.
Pour into a bowl, then add the eggs.
Using a pastry bag, pipe the dough into circles the size of a hazelnut onto baking paper.
Bake at 200°C for 15 to 20 minutes.
Mango Boba
Mix the warm mango purée with the gelatin powder, sieve then allow it to cool.
Warm the water and sodium alginate in a small pan, then mix with the mango puree until smooth.
Strain and cool.
Whipped Cream
Heat the milk, cream and vanilla pods.
Whisk the eggs with the egg yolks, sugar and custard powder.
Pour this mixture into the hot liquid and beat until it reaches a firm texture.
Immediately remove from the heat and continue to beat until smooth.
Refrigerate. Once cooled, add half of the butter and mix well.
Let it stand overnight.
Add the remaining softened butter, whipping cream and Spekkoek spices.
Red and White Icing
In a large pot, heat the sugar, water and glucose to 101°C while gradually adding in the condensed milk.
Soak the gelatin in an ice bath and then pour in the preparation and add the white chocolate.
Sieve and set aside. Add the transparent glaze and mix.
When the temperature reaches 30°C, divide the mixture into two parts.
Add red dye to one half and titanium powder to the other half.
Assembly
Fill the choux with the whipped cream and frost the choux with the red and white icing.
Keep refrigerated to stabilize the glazing.
Place the cold, iced choux onthe pastry.
Prepare a thin layer  of milk chocolate and place on the choux.
Using a pastry bag with a round tip, pipe on the whipped cream and decorate it with gold leaf, mango balls, crushed Kue Lapis and vanilla pods.
Gerald Maridet
GERALD MARIDET is a welltravelled pastry maker. After finishing school in Lyon, he quickly took off for a career overseas. He worked in Indonesia, Guatemala, Malaysia, Singapore, China and Mauritius for large hotel groups. He then moved to Dubai, where he was placed in-charge of the Food & Beverage Salam Hospitality Group, opening the concept Deli Shops, starring a line of pastries adapted to the local market. From there he moved on to the Shangri-La, Kuala Lumpur, and the Al Bustan Palace (Ritz-Carlton Group) in Oman where he was in-charge of teams of 18 to 35 people. Since 2014, Gerald Maridet has been the Head Pastry Chef at Pullman Hotel & Resort in Jakarta, Indonesia.
See his tips