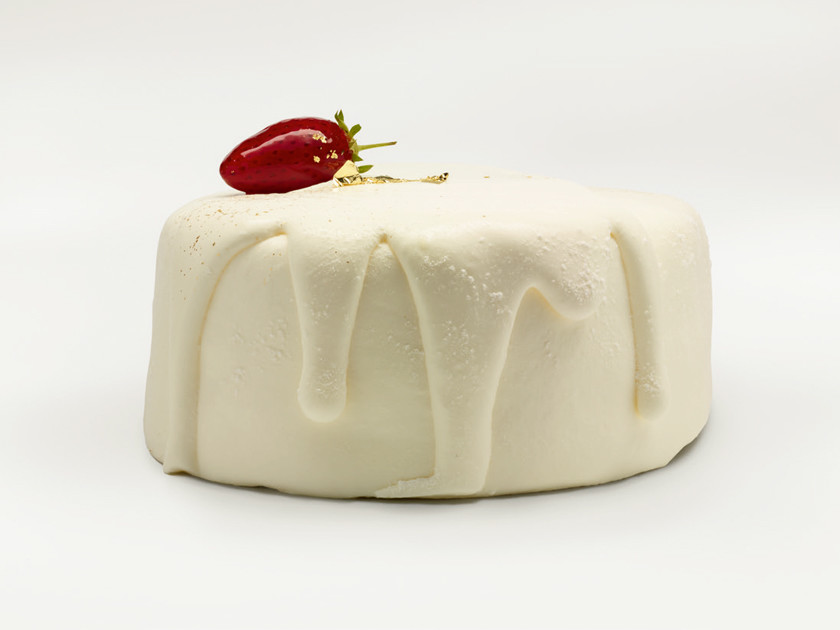 Short Cake
Short cake
recipe from chef Laurent Jeannin
Cloud of creamy strawberries
Ingredients
Strawberries

500g ciflorette strawberries

150g strawberry jam

Genoise

200g eggs

125g caster sugar

100g sifted flour

60g almond powder

Whipped cream

0.5 l crème fleurette (liquid heavy cream)

50g mascarpone

3 sheets of gelatine
Method
Génoise
Preheat your oven to 180°C.
Take a saucepan and prepare a double boiler.
Put the eggs and caster sugar into the vat of a mixer and heat everything over the double boiler, while whipping, up to a temperature of approximately 45°.
Then have it mixed at a high speed with a whisk and have the flour sifted with the almond powder.
When your mixture has stiffened and is nearly cold, stop the mixer.
Using a spatula, incorporate delicately, and little by little, the sifted powder mixture.
Cover a baking tray with baking paper by adhering it to each corner with a little bit of genoise (Italian sponge cake).
Spread the genoise with as much regularity as possible so that the biscuit doesn't fall.
Put in the oven and cook for 20 minutes at 180°C.
Once it's cooked, take the genoise out of the oven and put it on a cooling rack.
Whipped cream
Put the sheets of gelatine to be softened into the bowl filled with cold water.
Now whisk together the cream and the mascarpone, then set aside.
Drain the gelatine and melt it with approximately 50g of cream, whip and then incorporate the rest of the whipped cream by using a spatula.
Set aside.
Strawberry saturation syrup
Mix 150g of strawberry jam with 100g water.
Assembly
Now take a genoise cake and, with the help of a brush, saturate with the strawberry syrup.
Garnish the top with cream, then pieces of strawberry, add a little cream and add another biscuit.
Repeat the garnish and add the last biscuit.
Now cover the entire cake with cream using a spatula and decorate uniformly.
Store at a cool temperature for a good half hour and then you are ready!
Enjoy!
Laurent Jeannin
Bristol's pastry chef has dreamed of pursuing this vocation for as long as he can remember. Rather than stories about monsters, he would read books about cakes and marvel at the photographs of fraisiers (strawberry cakes). LAURENT JEANNIN worked at the Hôtel de Crillon 25 years ago with Éric Frechon in the kitchen and the two were reunited at the Bristol in 2007. His professional path has also taken him to Pierre Hermé, Japan and George V. His desserts exhibit an interest in light flavours, textures and the harmonisation of tastes. He is always looking to make something new and sets his creative objectives within the scope of gustatory pleasure.
See his tips