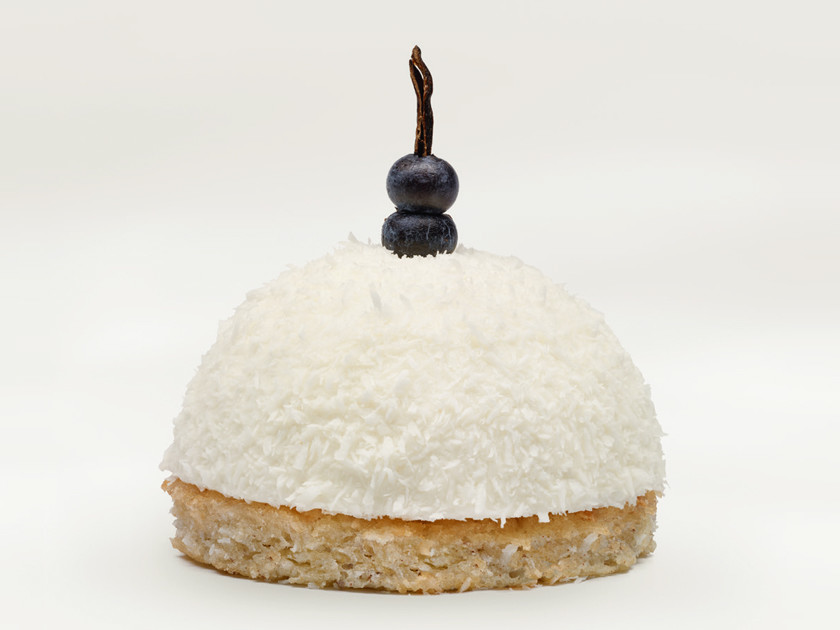 L'éphemère
Éphemère
recipe from chefs Nathalie Robert and Didier Mathray
hazelnut coconut - jellied blackcurrant marmalade insert - éphémère coconut mousse
Ingredients
Hazelnut coconut dacquoise

60g hazelnut powder

35g coconut powder

85g icing sugar

35g strong flour

145g egg whites

55g caster sugar

Jellied blackcurrant marmalade insert

150g blackcurrant seeds

10g caster sugar

4g leaf gelatine

Éphémère coconut mousse

120g coconut puree

1g vanilla powder

10g caster sugar

4g leaf gelatine or

140g whipped cream
Method
Hazelnut coconut dacquoise
Whip the egg whites into peaks, whisk with caster sugar and incorporate powders.
Spread at a thickness of 8mm on a baking sheet and cook for 16 minutes at 170°C.
Cut out circles of dough that are 75mm in diameter.
Jellied blackcurrant marmalade insert
Stew for 15 minutes and dissolve the gelatine.
Congeal in palets that are 50mm in diameter.
Éphémère coconut mousse
Incorporate the whipped cream at 4°C into the base at 33°C.
Distribute into the demi-spheres that are 75mm in diameter.
Garnish with a blackcurrant insert.
Freeze.
Assembly
Glaze the coconut demi-spheres with neutral nappage and sprinkle with coconut powder. Place on the dacquoise circle. Decorate with an array of blackcurrants.
Nathalie Robert and Didier Mathray
Pain de Sucre is a twoperson, catering-based operation. This means that in the creations made by this pâtissier couple, there are classical bases, but less sugar and a re-working of the appearance and recipes for an original play of textures. The NATHALIE ROBERT & DIDIER MATHRAY hallmark is a refined, rather Zen presentation, using squares where every piece of ornamentation is justified. Before, Nathalie and Robert worked for Pierre Gagnaire. They met under his direction and then created Pain de Sucre.
See their tips