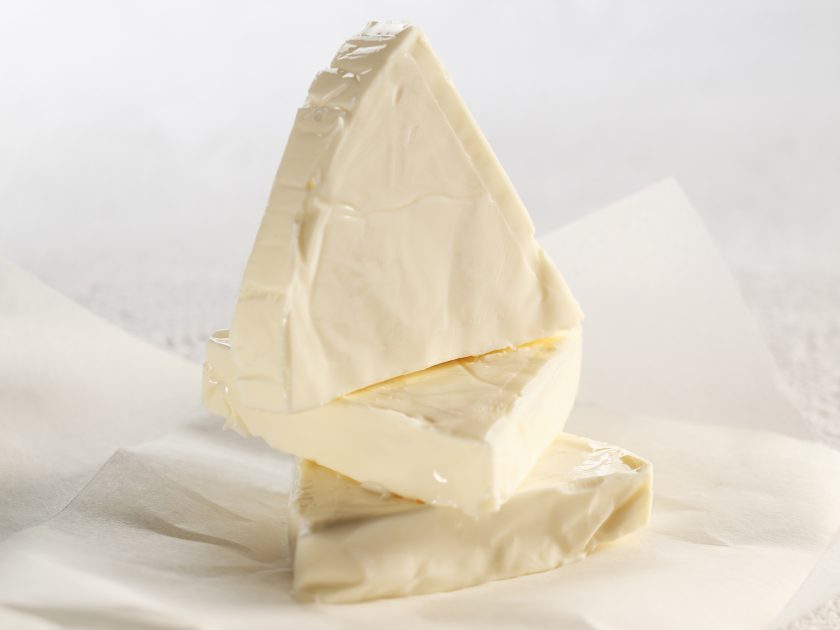 La Vache Qui Rit
"Fresh and spreadable" cheeses
A smooth, shiny, homogenous, cream-colored paste.
La Vache Qui Rit is the world-famous Laughing Cow! It is one of the very first processed cheeses, created in Franche Comté in 1921 by Léon Bel. It was once called « Crème de Gruyère » because it is made by melting various hard cheeses such as Gruyère.
Today it is a registered trademark of the Bel group and is sold in boxes of eight to twenty-four aluminum-wrapped portions.
As this cheese is sterilized and hermetically sealed, it does not need to be kept in the refrigerator, and can be kept for a long time without the taste being altered. This enables it to be easily sold all over the world. In addition to its soft, smooth texture, it is a very practical cheese for spreading.
La Vache Qui Rit is available in a low-fat version with just 7% fat.
A ham-flavored version is also available.
Fromagerie Bel
A smooth, shiny, homogenous, cream-colored paste.
triangle 4 cm - longueur 5 cm - épaisseur 1,7 cm
portions de 17,5g en boite de 8, 12, 16 et 24 portions.
Health & nutrition
19%, ou 7% pour La vache qui rit légère
Flavours & sensory qualities
A very smooth, creamy texture; a slightly salty flavor with a characteristic taste of processed cheese.